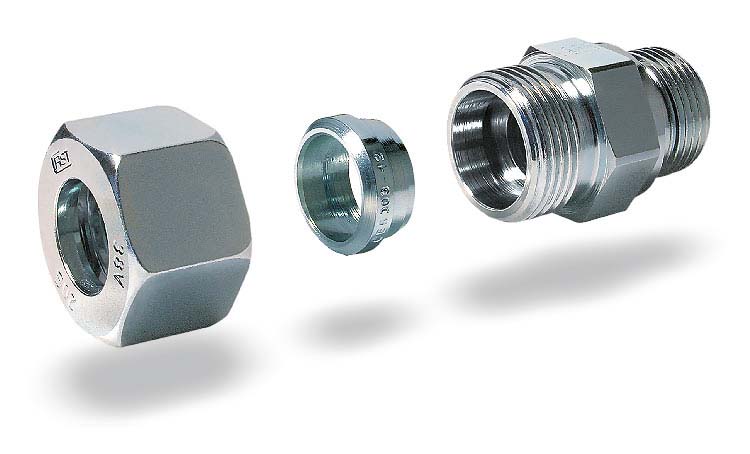 DIN 2353 B3
可安装到所有CAST产品上的标准双刃式卡套,保证密封性与安全性
可提供碳钢或不锈钢材料

工作原理
Cast卡套式接头按照ISO 8434-1/DIN 2353标准制造,是一种带双刃式卡套在钢管上提供双重卡套连接的机械接头。
这种卡套有助快速安装活动钢管,无需焊接、锥螺纹或扩口,因此确保在复杂的油压驱动系统中实现最简单的操作。
在拧紧螺母过程中,卡套的形状按接头的24°锥面上的钻孔形状改变,然后咬合钢管,产生两个深的凹槽,第一个凹槽可以看得见,随着钢管直径的外缘升起,令卡套既不透水也能防止卡套松脱。第二个凹槽(看不见)平衡整个卡套上的压力,防止振动传到第一个凹槽处,并且按预设值限定钢管的连接。
DIN 2353 B3
STANDARD DOUBLE CUTTING EDGE RING ASSEMBLED ON ALL CAST PRODUCTION ASSURES SEALING AND SAFETY.
AVAILABLE IN CARBON AND STAINLESS STEEL

THEORY OF OPERATION
The Cast fitting, manufactured according to ISO 8434-1/DIN 2353 norm is a mechanical fitting with a double cutting ring for double stapling on the tube.
The ring helps fast assembly of removable tubes, avoids welding, tapping and flaring, thus assuring maximum simplicity of complex oleo-dynamic systems.
During tightening by the nut, the ring deforms according to the bore of the 24° cone of the fitting and bites into the steel tube, producing two deep cuts the first of which is visible due to lifting of an outer edge on the diameter of the tube, allows the water tightness and anti-unthreading of the ring. The second groove (invisible) balances the forces on the whole ring, prevents vibrations to reach the first groove and stops the stapling of the tube at a predetermined value.