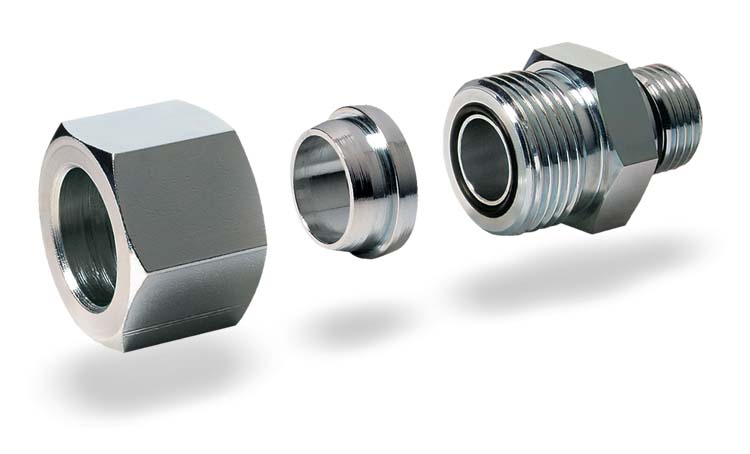 ORFS SAE J1453
新型CAST ORFS平面O型圈密封接头
有防尘和无泄漏功能的密封件
容易安装
人所皆知的安全可靠产品
可提供碳钢或不锈钢材料

工作原理
CAST有限公司的这种接头是一种符合ISO 8434-3/ SAE J1453标准、传统上用于高压油压驱动系统的机械接头。
密封是由两个金属表面的接触实现,单独组件没有任何变形情况,加上在接头前部的凹槽里面放置一个弹性密封圈(O形密封圈)。
接头体与扩口钢管之间的连接是由锁紧螺母和内部的压力衬套来保证。这种方式允许实现钢管的快速安装和拆卸,确保在复杂的油压驱动系统中实现最简单的操作。
ORFS SAE J1453
THE NEW CAST ORFS FITTING
A DRY AS THE DUST SEAL
EASY TO ASSEMBLE
A KNOWN PRODUCT, SAFE AND RELIABLE
AVAILABLE IN CARBON AND STAINLESS STEEL

THEORY OF OPERATION
The CAST S.p.A. fitting according to the norms ISO 8434-3 / SAE J1453, is a mechanical fitting traditionally used for high pressure oleo-dynamic systems.
The sealing is made by the contact between two metal surfaces, with no deformation of the single components, plus an elastomeric sealing (O-Ring) placed into a groove on the front part of the fitting.
The coupling between the body of the fitting and the flared tube is guaranteed by the tightening nut and by the pressure sleeve on the inside. This allow to realize a fast assembling-disassembling tube making the easiest realization of complex oleo-dynamic systems.