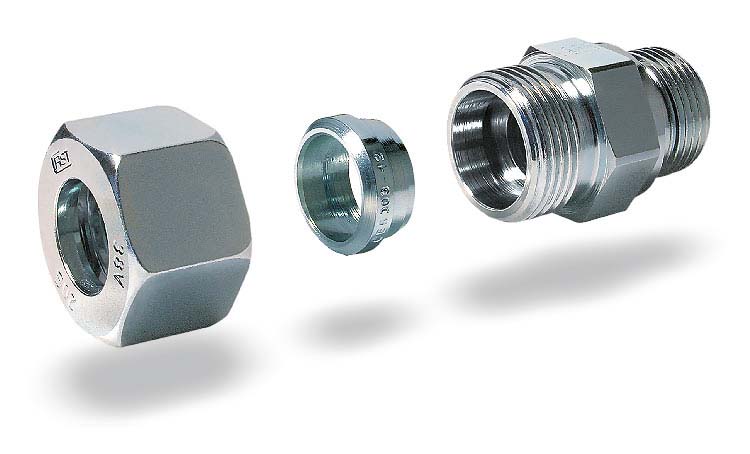 DIN 2353 B3
ANELLO STANDARD A DOPPIO TAGLIENTE MONTATO SU TUTTA LA PRODUZIONE CAST, ASSICURA TENUTA ED AFFIDABILITÀ.
PRODOTTO IN ACCIAIO AL CARBONIO E IN ACCIAIO INOSSIDABILE

SCHEMA Dl PRINCIPIO
Il raccordo CAST a norme ISO 8434-1/DIN 2353 è un raccordo meccanico del tipo ad anello tagliente con doppio graffaggio sul tubo.
L'anello "B3" permette di realizzare rapidamente delle tubazioni smontabili, evita le saldature, i filettaggi e gli svasamenti, semplificando al massimo la realizzazione di complessi impianti oleodinamici. Durante il serraggio provocato dal dado, l'anello si deforma secondo l'alesaggio del cono a 24° del raccordo e penetra nel tubo in acciaio, determinando due profonde incisioni, di cui la prima, visibile per il sollevamento di un bordo esterno sul diametro del tubo, garantisce l'ermeticità e l'antisfilamento dell'anello dal tubo, la seconda (non visibile) contribuisce a distribuire equamente le forze su tutto l'anello, evita che le vibrazioni raggiungano la prima incisione e arresta ad un valore predeterminato il graffaggio del tubo.
DIN 2353 B3
STANDARD DOUBLE CUTTING EDGE RING ASSEMBLED ON ALL CAST PRODUCTION ASSURES SEALING AND SAFETY.
AVAILABLE IN CARBON AND STAINLESS STEEL

THEORY OF OPERATION
The Cast fitting, manufactured according to ISO 8434-1/DIN 2353 norm is a mechanical fitting with a double cutting ring for double stapling on the tube.
The ring helps fast assembly of removable tubes, avoids welding, tapping and flaring, thus assuring maximum simplicity of complex oleo-dynamic systems.
During tightening by the nut, the ring deforms according to the bore of the 24° cone of the fitting and bites into the steel tube, producing two deep cuts the first of which is visible due to lifting of an outer edge on the diameter of the tube, allows the water tightness and anti-unthreading of the ring. The second groove (invisible) balances the forces on the whole ring, prevents vibrations to reach the first groove and stops the stapling of the tube at a predetermined value.