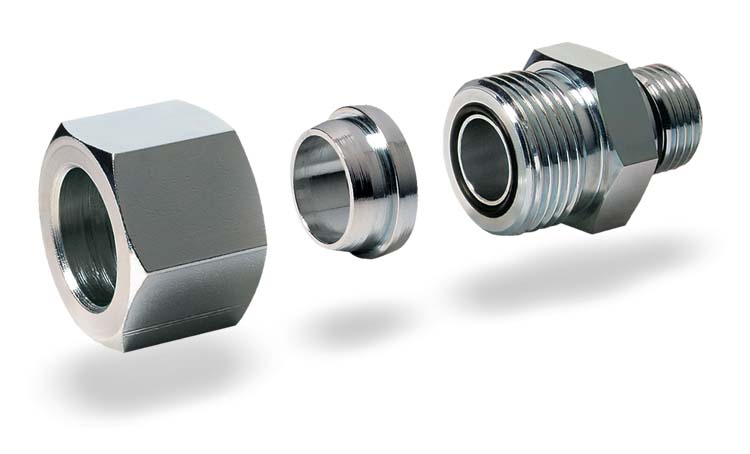 ORFS SAE J1453
IL NUOVO RACCORDO ORFS CAST
UNA GIUNZIONE SECCA COME LA POLVERE,
UN MONTAGGIO SEMPLICE E CONSOLIDATO
UN PRODOTTO RICONOSCIBILE, INNOVATIVO ED AFFIDABILE
PRODOTTO IN ACCIAIO AL CARBONIO E IN ACCIAIO INOSSIDABILE

SCHEMA Dl PRINCIPIO
Il raccordo CAST a norme ISO 8434-3/SAE J1453 è un raccordo meccanico, impiegato tradizionalmente per collegamenti fluidodinamici ad alta pressione. La tenuta è realizzata tra due superfici piane metallo su metallo, senza alcuna deformazione dei componenti, e da una tenuta elastomerica (o-ring) posta su una sede ricavata sulla superficie frontale del raccordo. Il collegamento tra il corpo del raccordo e il tubo svasato è garantito dal dado di serraggio e dalla boccola alloggiata al suo interno. Esso permette di realizzare rapidamente delle tubazioni smontabili, evita le saldature e i filettaggi, semplificando al massimo la realizzazione di complessi impianti oleodinamici.
ORFS SAE J1453
THE NEW CAST ORFS FITTING
A DRY AS THE DUST SEAL
EASY TO ASSEMBLE
A KNOWN PRODUCT, SAFE AND RELIABLE
AVAILABLE IN CARBON AND STAINLESS STEEL

THEORY OF OPERATION
The CAST S.p.A. fitting according to the norms ISO 8434-3 / SAE J1453, is a mechanical fitting traditionally used for high pressure oleo-dynamic systems.
The sealing is made by the contact between two metal surfaces, with no deformation of the single components, plus an elastomeric sealing (O-Ring) placed into a groove on the front part of the fitting.
The coupling between the body of the fitting and the flared tube is guaranteed by the tightening nut and by the pressure sleeve on the inside. This allow to realize a fast assembling-disassembling tube making the easiest realization of complex oleo-dynamic systems.